Some leaders have a sixth sense of what lies ahead for their organizations and markets. The leaders who do this well tend to be branded as visionary, or in some cases, "out there."
Many leaders, however, need to develop their strategic skills, and could benefit from a framework to help broaden their perspective beyond the day-to-day.
If you have a difficult time carving out time, much less stepping back to consider future possibilities, the following "short-list" of questions should get you started.
The first set of questions are focused internally; the second set invite you to develop an external perspective. Build upon these, of course, as you see fit.
Internally focused questions:
Put an ear to the ground
What keeps your most valued customers (clients, donors, etc.) up at night?
To what degree are employees across the organization engaged, satisfied, and operating consistent with cultural norms?
Is your team delivering optimally on its objectives? Are there overlaps with other areas of the organization?
What is the biggest headache for your boss's boss?
Which operational processes are showing signs of strain?
Externally focused questions:
Scan the horizon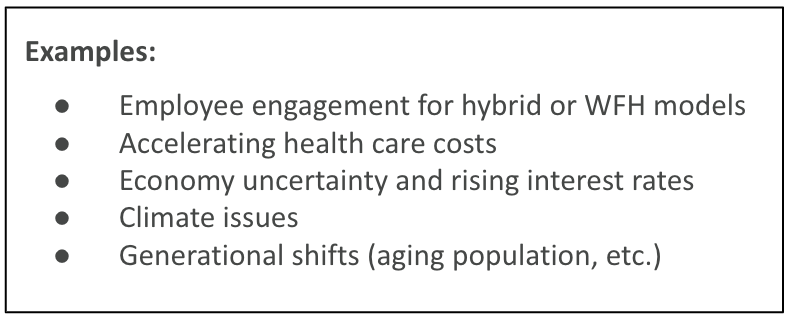 What are the current macro trends affecting your market and segment or industry? Google "macro trends" and you'll get pages worth of data and reports. Scan one or two.
While scrolling through your newsfeed, think about what could possibly affect your market sector?
How might these shifts affect your organization's ability to thrive (or not)?
Which technologies and innovations are apt to drive change for your business or industry? Certainly AI, but what about 5G, blockchain, bitcoin, 3D printing …?
Are there potential learning opportunities from sectors related (or unrelated) to your own? From your competitors?
Once you've identified the top challenges (or opportunities) most likely to affect your organization, you can begin to qualify the likelihood and timeframe. From there, you can socialize internally and shift into solution mode, if needed.
The ability to anticipate challenges and opportunities is a key leadership differentiator. While developing the skill takes time, it's not as difficult as you might think. It's more about applying a fresh perspective to your day-to-day – one that reminds you to look up and out to contextualize your situation with a broader, more strategic lens.
Here's to the power of questions in helping you anticipate what lies ahead!
Share This Post: